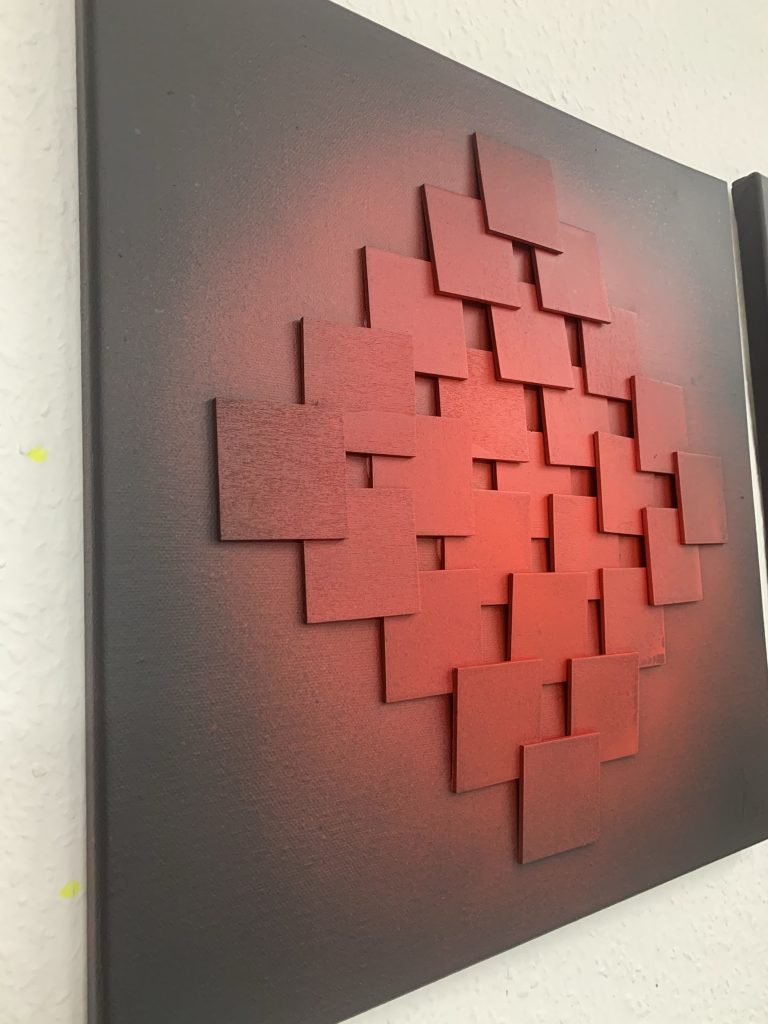 Kurzvita:
1989/90 Studium der Rechtswissenschaften an der Universität zu Köln, 2. Staatsexamen
1995/96 Aufenthalt in Paris
1996 Aufenthalt in Südafrika
Seit 2001 Ausbildung in der "Kölner Kunstschule"
Seit 2006 freischaffend
Seit 2009 Studium der Aktmalerei und freien Malerei bei Gaby Ludwig
Ausstellungen seit 2004
Auszug:
2013-2015 Rathausgalerie Lindenthal, Dauerausstellung Dr.
Lung & Partner Köln, Streetgallery Köln
2015 Streetgallery Köln, Kunstmeile Rodenkirchen
2016 Rodenkirchner Kunstmeile, Offene Ateliers, Mülheimer
Nacht im Kunstwerk und Museumsnacht Köln/Einzelausstellung
H. Royale
2017 Streetgallery, Museumnacht Köln, Offene Ateliers,
Mülheimer Nacht, Gruppenausstellung Kunsthalle Lindenthal
2018 Rodenkirchener Kunstmeile, Museumsnacht Mülheimer
Nacht-offene Ateliers", ATP Meerbusch (solo)
2019 Streetgallery, Gemeinschaftsausstellung Kunsthalle
Lindenthal, Museumnacht und Offene Ateliers
2019 Auftragsarbeiten der Kinderkardiologie der Uniklinik Köln; Kunstmeile Rodenkirchen, Streetgallery; offene Ateliers, Museumsnacht Köln Gruppenaussstellung Galerie 80, Berlin
Zu ihren Arbeiten:
Was ist eigentlich Kunst? Kunst kann so vieles sein; sie kann Geschichten erzählen, sie kann Freude bereiten oder Mittel zur Kritik sein. Hülbachs abstrakte Arbeiten sind Ausdruck ihrer Emotionen, spontan, gelebt und/oder erfahren. Die Farben und die Art des Auftrages geben ihre Assoziationen und ihre Gedanken wieder.
Manchmal ist es unbewusst, was Alexandra Hülbach von dem
Wahrgenommenen oder Erfahrenen behält und was sie dann
in ihren Bildern verarbeitet: irgendwann drückt es sich aus, in Bildern und in Farbe … beeinflusst von dem was sie hört, was sie sieht, denkt und fühlt oder von dem was sie sich wünscht.
Deshalb hat sie bei ihren abstrakten Arbeiten auch den
Subtext "through my eyes", denn ihre Bilder sind die Sicht
ihrer Dinge; so wie sie die Welt sieht.
Daneben sucht sie die Verbindung vom Abstraktem und Figurativem. Hülbach verbindet immer wieder beide ihrer
Hauptmotive – das Figürliche wie z.B. den Frauenakt oder das Porträt oder eben auch das Foto mit dem Abstrakten und
versucht hier die perfekte Koextistenz zu finden. Das Auge des Betrachters soll die Linien verbinden, die Figur eingebettet in einem abstrakten Rahmen suchen und scheinbare Gegensätze akzeptieren. Das Werk ist ein kalkuliertes Spiel zwischen Zufall und präzisem Arbeiten.
To my work:
What actually is art? Art can be so many things; it can tell stories, it can give pleasure or it can be a means of criticism. So what is Alexandra Hülbachs Art all about and what motivates she?
Her abstract works are an expression of her emotions,
spontaneous, lived and/or experienced. The colors and the way she works reflect her associations and her thoughts.
Sometimes Alexandras pictures are based on her subconscious perceptions: they express themselves in pictures and in colour. They have been influenced by all her senses – what she hears, sees, thinks and feels or by what she wishs for.
This is why she have the subtext "through my eyes" in her abstract works, because her paintings reflects her view of the world.
In addition, the artist seeks the connection between the abstract and the figurative. She always combine both of her main motifs – the figurative, such as the female nude or the portrait, or even the photo with the abstract and try to find the perfect co-existence here. The eye of the viewer should connect the lines, search for the figure embedded in an abstract frame and accept apparent opposites. The work is a calculated game between coincidence and precise work.