Rita in Palma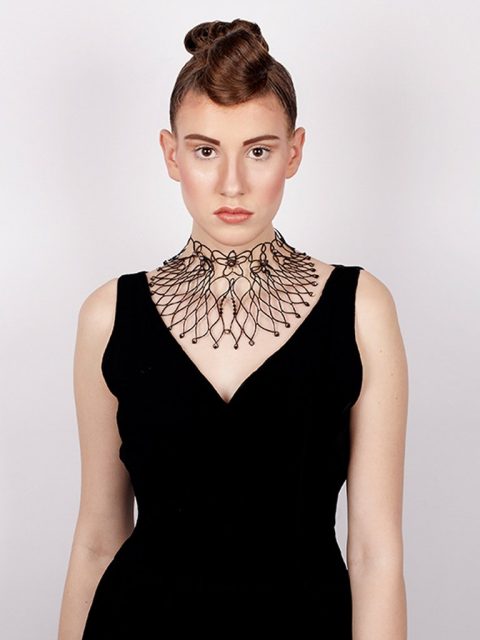 Rita in Palma's handcrafted accessories are developed in corporation with women from Turkey, Pakistan, Syria, Lebanon and Kosovo in Berlin. The women's superior artistic skills, boasting inordinately complex crochet techniques, have been cultivated over several generations. This allows us the production of artistically crafted works and simultaneously permits these women entry into the workforce.
Unique jewels, like collars, colliers, bowties, exclusive silk scarves, and bags, mesmerize with the high quality of handcrafted execution and sophisticated designs.
Rita in Palma sets fashion trends: (these elements contribute to Rita in Palma's renown as a trendsetter):
Acclaimed trade journals, such as Vogue, Madame, or Elle, as well as prominent Newspapers such as the Financial Times, ZEIT and FAZ have reported extensively on Rita in Palma's fashion.
Launched only a few years ago, in 2010, the label has already won the Young Designer Fashion award and was included into the Vogue Salon by the chief editor of the German Vogue during the Mercedes Benz fashion week.
Because the composition draws on the shimmer of times gone by, the design and craft awaken yearnings. In particular at a time when the world (of consumption and consumerism) continues to accelerate the increasing social appreciation of sustainability and interpersonal values
CROCHET COUTURE
Rita in Palma is for the first time able to combine integrative work with high-fashion design. The seemingly opposed poles of luxury fashion and social engagement are no longer a contradiction but a symbiotic relationship.
The new social appreciation for high quality handcrafted works—as a contrasting model to the prominence of industrial mass production, which even permeates the realm of luxury goods—enables the comprehensive social engagement of the fashion label.
Our "crochet queens" are enraptured by the designs and their important role in the fashioning of the products endows them with a new sense of individual value/self-worth. Not merely silent producers, these women actively participate in the success of Rita in Palma.
The close collaboration with Rita's founder, Ann-Kathrin Carstensen, and her creative team fosters animated intercultural exchanges. These deconstruct "socio-cultural" as well as linguistic boundaries.
Rita in Palma has already received numerous requests for individual productions/designs.
Whether these include antique tablecloths, a "baldachin" for a crib, a cap for a baptism, an exclusive cashmere scarf—decorated all over with flower blossoms—or even a bridal gown with crocheted edgings, Rita in Palma produces valuable originals according to your requests.